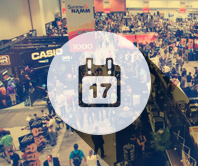 Industry Events
Lollapalooza
July 31st – August 1st 2015
Lollapalooza is an annual music festival featuring popular alternative rock, heavy metal, punk rock and hip hop bands, dance and comedy performances and craft booths. Lollapalooza has featured a diverse range of bands and has helped expose and popularize artists such as Dev, Rollins Band, Nine Inch Nails, Jane's Addiction, The Smashing Pumpkins, Muse, Imagine Dragons, Babes in Toyland, Beastie Boys, and much more.
23rd Annual Cutting Edge CE Conference
August 27th – 29th 2015
Cutting Edge C.E. will again discuss "Hot Topics" and "Current Trends" in today's entertainment business. Attend conference sessions on Entertainment Law, Music Business, Film financing and tax credits, Roots Music, and the NewWorks Showcases.
BigSound
September 9th – September 11th 2015
BIGSOUND draws top national and international industry talent to Brisbane each year, forming a vibrant collection of musicians, buyers and industry experts to create an environment of new music discovery. BIGSOUND is positioned as Australia's most internationally focused conference.
International Music Conference
September 16th – September 20th 2015
The International Music Conference is the main music event to encapsulate the new music industry worldwide. It is the best place to create, communicate and participate in the global multi-billion dollar music industry forum. IMC brings together the most influential decision makers and deal breakers in the entertainment industry on an international level.
Dewey Beach Music Conference
September 16th – September 24th 2015
Dewey Beach sits on a narrow peninsula between the Atlantic Ocean and Rehoboth Bay. The result is a casual, laid-back vibe that almost seems like a beach vacation. With three nights of showcases and two days of demo & mentoring sessions, trade-show and industry meet & greet events, there are plenty of opportunities to work at furthering your music career…or just experience some great performances.
International Computer Music Conference
September 25th – October 1st 2015
The International Computer Music Conference's theme of "Looking Back, Looking Forward" invites participants to reflect on the innovations, developments and artistic challenges over the past century, and to articulate a vision for the future. Special topics for the 2015 conference include: digital communities, big data, telematic music, intermedia, 3D printing, new media, virtual reality, futurism, robotics, and mobile music computing.
DMW Music Forum
October 2nd 2015
Join 300+ of the most influential music and digital media leaders as they gather in Downtown New York to socialize, share ideas, do deals and learn about new technologies and services.
Mid-Atlantic Music Conference
October 2nd – 4th 2015
The 13th Annual Mid-Atlantic Music Conference is taking place in Charlotte, NC and will feature performances by multiple artists and bands in multiple venues. There will be daily workshops being hosted by several professionals in the music industry.
The Amsterdam Dance Event
October 14th – 18th 2015
The Amsterdam Dance Event is a five-day electronic music conference and festival that offers a full program of daytime conferences alongside the nighttime ADE Festival featuring 300 events and 2,000 DJ's over five days in 80 clubs and venues.The program features the biggest artists on the planet alongside fresh, upcoming talent and everything in between, covering the whole spectrum of electronic sub-genres.
Audio Engineering Society Convention
October 29th – November 1st 2015
AES Conventions are the largest gatherings of audio professionals in the world with workshops, tutorials, technical papers and a trade show floor, attendees are provided with a wealth of learning, networking and business opportunities.
APAP NYC
January 15th – 19th 2016
APAP|NYC is the annual membership conference of the Association of Performing Arts Presenters. It is the world's largest networking forum and marketplace for performing arts professionals. More than 3,600 performing arts professionals convene in the city for five days of professional development, business deals and artist showcase performances.
Eurosonic Noorderslag
January 13th – 16th 2016
Eurosonic Noorderslag is an annual four-day conference and showcase festival presenting European pop music. The festival takes place in January in Groningen.
2015 Illinois Music Education Conference
January 27th – 30th 2016
With more than 3,500 members, ILMEA is one of the largest of the 52 affiliates of NAfME: The National Association for Music Education, over 75,000 members strong. ILMEA is, by far, the largest Fine Arts education organization in Illinois and among the largest in the nation.
Folk Alliance Music Conference
February 17th – 21st 2016
With more than 3000 members worldwide, the annual conference is one of the five largest music conferences in North America. The conference draws over 2500 artists, presenters, agents, managers, music support services reps, manufacturers, record companies, publishers, radio DJs, funders and others that work in the folk music field.
Millenium Music Conference
February 19th – 22nd 2016
Since 1997, this conference & showcase has become one of the premier music events on the East Coast. The conference features two afternoons of music business panels, clinics, workshops, networking, day stages, one-on-one mentoring & demo listening sessions, and industry trade show. In the evenings the event celebrates new music with three nights of showcase performances.
Radio Ink Hispanic Music Conference
March 22nd – 23rd, 2016
The sixth Radio Ink Hispanic Radio Conference brings together leaders in the Hispanic radio community and experts in Hispanic advertising and media for a comprehensive overview of opportunities and strategies within this rapidly transforming sector.
ILMC
March 3rd – 6th, 2016
ILMC is the leading annual gathering of professionals involved in the global touring, festival and live entertainment industries.
SXSW Music
March 15th – 20th 2016
South by Southwest (SXSW) Music offers attendees the opportunity to explore the future of the music industry during the day at panels, talks, the Trade Show, Music Gear Expo and other conference activities at the Austin Convention Center.
By:Larm
April 3rd – July 3rd 2016
By:Larm consists of a festival and a conference. The main purpose is to present aspiring artists that are on the verge of success, either in their homelands or internationally.With a diverse live program, the artists at by:Larm represent the highlights of the current Nordic music scene.
MEDCOM
April 21st and 22nd 2016
TIIKM's 2nd Annual World Conference on Media & Mass Communication will bring together researchers, educators, practitioners, and policy makers to share their knowledge and experience with one another. The program will include keynote presentations from experts in their related fields, interactive presentations, case studies, and will also provide the opportunity to share research, ideas, and develop working relationships. Social events will include a networking dinner and post conference tours to the Great Wall and Forbidden City.
Worldwide Radio Summit
April 13th – 15th 2016
Worldwide Radio Summit 2016 will highlight some of the most important issues and opportunities impacting radio today and tomorrow, while also focusing on the future of this crucial broadcast medium that is the world's largest communicator of music and sound.
Launch Music Conference
April 21st – 24th 2016
By combining both a music conference and festival, LAUNCH brings together two aspects of the music industry for one exciting weekend in Downtown Lancaster, PA. With a variety of performers and events there's something for everyone during LAUNCH – from the most casual music fan to the most die-hard.
Global Rock Summit
April 15th – 16th 2016
The GRS is an international rock music conference aimed at bringing together all aspects of the multi-billion dollar global rock music industry in one annual, focused gathering with a view of helping to further stimulate a very buoyant but often much overlooked sector of the music industry.
A&R Worldwide MUSEXPO
April 17th – 20th 2016
MUSEXPO will focus on the evolving global music market and give you an overview of the opportunities shaping today and tomorrow's music business. It's a must-attend event for those who are looking to enhance their knowledge and relationships, as well as, access new creative and commercial opportunities.
International Music Summit: Engage
April 20th 2016
International Music Summit is an educational, inspirational and motivational thought leadership platform dedicated to creating awareness of, and appreciation for, electronic music, the artistry related to DJing and all related popular art forms, primarily through the presentation of summits and events that celebrate the historic and ongoing contribution of the genre to art and culture worldwide.
ASCAP Expo
April 28th – April 30th 2016
The ASCAP "I Create Music" EXPO is the first and only national conference dedicated to songwriting and composing. This EXPO puts you face-to-face with some of the world's most successful songwriters, composers, producers and music business leaders, all who willingly share their knowledge and expertise and give you the know-how to take your music to the next level.
Canadian Music Week
May 4th – 14th, 2016
Canadian Music Week is recognized as one of the premier entertainment events in North America focusing on the business of music. The Canadian Music Week festival spans 10 nights of performances, with 1,000 showcasing bands at more than 60 live music venues in downtown Toronto.
Music Biz 2016
May 16th – 18th 2016
Music Biz 2016 will highlight the most current trends and issues and provide analysis on the growing implications of access-based models. It will also provide ample meeting opportunities that will bring songwriters, publishers, artists and managers together with the commerce and content communities.
The Great Escape
May 19th – 21st 2016
The Great Escape is a new music festival that showcases emerging artists from all over the world. Over 400 up and coming bands play in 35 Brighton venues, accessible on one wristband. It's the first place to discover your new favorite band and see them in an intimate setting before they go on to headline major festival stages.
All That Matters
May 25th – 29th 2016
This year, All That Matters, the award winning music industry event will connect attendees to key players in the global entertainment industry with a focused eye on the future, the series of conferences embraces Music, LIVE, Media, Sponsorship and fan events.
North By Northeast
June 15th – 19th 2016
North by Northeast Festivals and Conference (NXNE) has become the Canadian festival destination for emerging artists and major-label headliners; filmmakers; hilarious comedians; visual, sound, and other artists; and innovators bridging the gap between technology and the arts. Seen as the most anticipated summer music event in Canada, NXNE Music, NXNE Film, NXNE Interactive, NXNE Art, and NXNE Comedy are an essential gathering for artists, industry, and fans.
Midem
June 28th – July 1st 2016
Since 46 years, midem is the yearly international b2b event dedicated to the new music ecosystem, with a tradeshow, conferences, competitions, networking events and live performances. It's the place where music makers, cutting-edge technologies, brands & talents come together to enrich the passionate relationship between people & music, transform audience engagement & form new business connections.