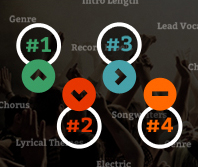 The Hit Songs Deconstructed Trend Report
Highlights From Our Q4 Trend Report
Back to HSD Wire

Our latest Hit Songs Deconstructed Trend Report takes a look at the compositional characteristics that define the 21 songs that landed in the Billboard Hot 100 Top 10 during the fourth quarter of 2015 (October through December), and how these characteristics differed from – or stayed the same as – what came before.
What follows are some highlights. For a full rundown and analysis, be sure to read the full report by clicking here.
Solo Female Lead Vocals Rebound
The solo female lead vocal category went from being the most popular to the second least popular in the span of four quarters. From a high of 42% of songs back in Q4-2014, it plummeted to just 9% of songs by the end of Q3-2015, represented solely by Lean On (M0) and Fight Song (Rachel Platten).
While in Q4 solo male vocals remained the most popular, solo female vocals increased from 9% to 19%, tying with female/male duets as the second most popular. This was thanks to the arrival of  Hello (Adele), Wildest Dreams (Taylor Swift), and Ex's & Oh's (Elle King).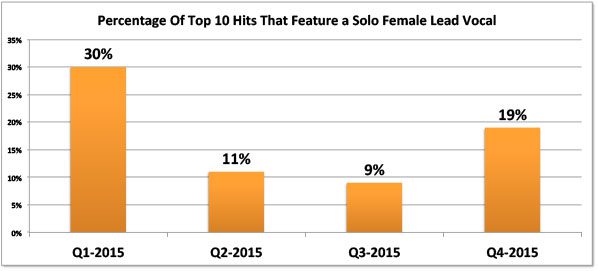 Over One-Third of Q4's Hits Feature One-Word Titles
During the first three quarters of 2015, the one-word song title category decreased in prominence from 25% of songs down to just 13%, which was its lowest level in over a year. However, in Q4 the percentage leaped back up to a one-year-plus high of 38%, which put it back on top for the first time since Q3-2014. Six of the category's eight representatives were new to the Top 10 in Q4, including Sorry, Focus, Hello, Perfect, Stitches, and Here.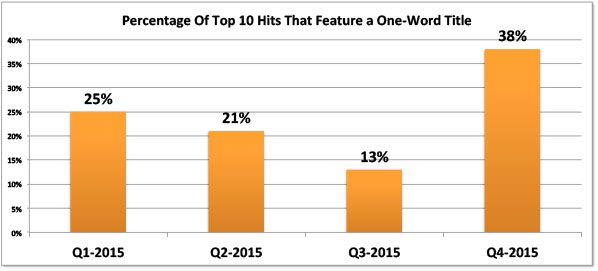 Retro Influences Shift from Late 70s and 80s to 60s and Early 70s
Retro played a significant role in the Top 10 throughout 2015. During the first three quarters of the year, the late 70s to mid 80s was the most popular, influencing the sound of hits such as Can't Feel My Face, Shut Up And Dance, and Love Me Like You Do. However, in Q4 most of the Top 10 new arrivals favored an earlier era, with a focus on the 60s and early 70s. Examples include:
Ex's & Oh's (1960s)
Same Old Love (1960s)
Here (Early 1970s)
Hotline Bling (Early 1970s)
Note that both Here and Hotline Bling feature samples from early 1970s gems – Ike's Rap II (Isaac Hayes) and Why Can't We Live Together (Timmy Thomas), respectively.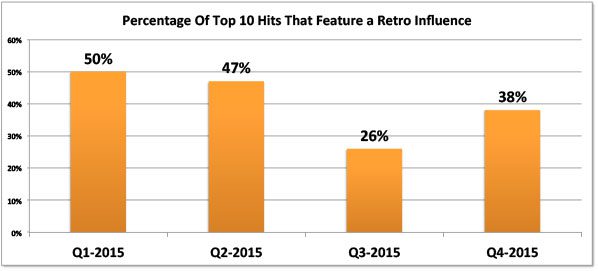 Hip Hop/Rap Loses Ground
As a primary genre, Hip Hop/Rap's prominence in the Top 10 took a hit in Q4, dropping from 22% of songs in Q3 down to just 10%, which was the category's second lowest level since Q2-2014. Both of its representatives – 679 and Watch Me – were carryovers from Q3.
As a sub-genre, Hip Hop/Rap had a great run during the first three quarters of the year, almost doubling in prominence from 25% of songs in Q1 up to 48% in Q3. However, its run came to an end in Q4, where it dropped to 33% of songs. Hip Hop/Rap played a role in songs stemming from the Pop and R&B/Soul primary genre categories in addition to the Hip Hop/Rap primary genre, including Good For You and Hotline Bling, respectively.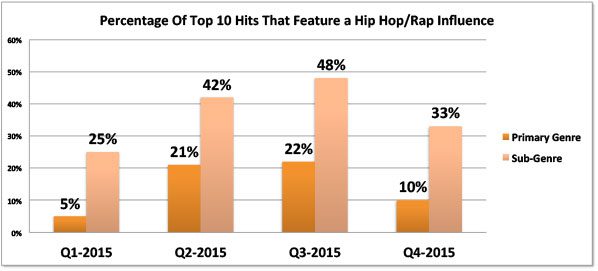 Primarily Acoustic Songs Drop Down to Nil
The primarily acoustic instrumentation category continued to be a rare commodity in 2015, never rising above 10% of songs. Among the songs that feature primarily acoustic based instrumentation in 2015 were Photograph, Earned It, and two of Sam Smith's hits – Lay Me Down and Stay With Me.
However, in Q4 the number dropped down to nil for the first time in numerous years. It's closest representative was the Meghan Trainor/John Legend Duet, Like I'm Gonna Lose You.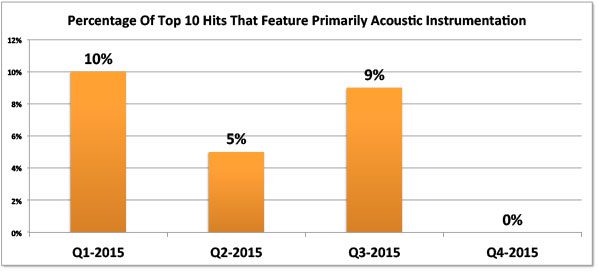 The Top 10 Charting Hits Of Q4-2015
679: Fetty Wap featuring Remy Boyz
Can't Feel My Face: The Weeknd
Cheerleader (Felix Jaehn Remix): OMI
Ex's And Oh's: Elle King
Focus: Ariana Grande
Good For You: Selena Gomez Featuring ASAP Rocky
Hello: Adele
Here: Alessia Cara
Hotline Bling: Drake
Lean On: Major Lazer, DJ Snake. M0
Like I'm Gonna Lose You: Meghan Trainor featuring John Legend
Locked Away: R. City featuring Adam Levine
Love Yourself: Justin Bieber
Perfect: One Direction
Same Old Love: Selena Gomez
Sorry: Justin Bieber
Stiches: Shawn Mendes
The Hills: The Weeknd
Watch Me: Silento
What Do You Mean: Justin Bieber
Wildest Dreams: Taylor Swift
These are just a few highlights from our latest  Hit Songs Deconstructed Trend Report.  To read the full report which features in-depth analysis of the trends that shaped the hits over the past year, click here.