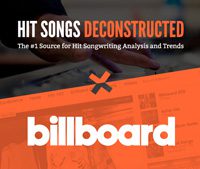 Billboard Hosts Hit Songs Deconstructed on Their New Chart Beat Podcast
The HSD Backstory, Hotline Bling, Same Old Love, Hello and More
Back to HSD Wire

Hit Songs Deconstructed's founders Yael and David Penn recently sat down with Billboard's Co-Director of Charts, Gary Trust, for their new podcast, Chart Beat. In this 52-minute podcast. they reveal the Hit Songs Deconstructed backstory, discuss why it's such a valuable tool to songwriters, producers and music industry professionals, and then dive into highlights from recent song deconstructions including Drake's Hotline Bling, Selena Gomez's Same Old Love and Adele's Hello.
For the full Billboard article click here.
Not a subscriber?
Sign up here

Already a subscriber?
Please log in here

Not yet receiving the HSD Wire?
Register for free