With Kiss Me More reaching a new peak on the Billboard Hot 100 (week of 6/26/21) and this week's release of Doja Cat's Planet Her, we decided to take a closer look at all-female duets.
All-female duets have been few and far between at the top of the Hot 100 chart. Over the past year, there have only been four all-female duets charting in the Top 10, compared to 27 all-male duets. In addition to Kiss Me More, they include WAP, Savage and Say So.*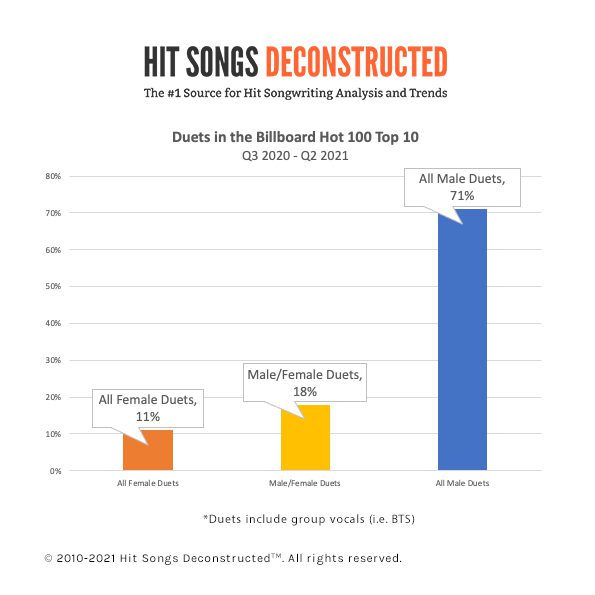 Below, we've compiled some notable stats about Top 10 hits featuring multiple female vocalists over the past year:
Only 11%

of Top 10 duets

have been performed exclusively by women.  Meanwhile, 71% have been exclusively male, and 18% have featured both male and female artists.

Doja Cat and Megan Thee Stallion

have been at the forefront of the year's female duets with two songs each.  Doja's include Kiss Me More (feat. SZA) and Say So (feat. Nicki Minaj), and Megan's include WAP (Cardi B) and Savage (feat. Beyoncé).
All four songs have a

hip hop influence

and include rapped vocals, an interesting statistic considering the male-dominated nature of the hip hop genre.
All four contain a prominent

hooking up lyrical theme

.

As of this week,

all four have charted in the Top 10 for at least 10 weeks

. Say So is the longest-charting at 16 weeks, followed by Savage (14 weeks), WAP (13 weeks) and Kiss Me More (10 weeks).
All but Kiss Me More have made it to the top spot on the Hot 100, the most successful being WAP with four weeks at #1.  And with this week's arrival of Doja Cat's full album Planet Her, it would not be unlikely for Kiss Me More to rise to #1 in the coming weeks.
Hot 100 Top 10 Female Duets (Q3 2020 – Q2 2021) Spotify Playlist
*Note that this data accounts for the original version of Ariana Grande's 34+35 and does not include the remix version featuring Doja Cat and Megan Thee Stallion, which charted for only one week of the song's 10-week total in the Top 10.