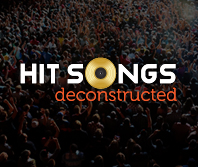 David Penn
David Penn is the founder & editor-in-chief of Hit Songs Deconstructed. A music connoisseur of all genres and periods, David is equally driven by the prospect of new music discovery as he is the craft that makes songs resonate throughout the ages. He has performed at some of NYC's most recognizable clubs including CBGB's, Continental and Don Hills, and his music has been featured in numerous TV shows, commercials and events. David currently lives in New York City.
"Penn's songwriting versatility and creativity across a vast spectrum of rock and pop music genres are a testament to his deep understanding, not only of musical history, but the commercial trends that drive what consumers want to hear."
– Ed Rivadavia Sr., Director Digital Marketing, RMG/JIVE Label Group
"David Penn is a talented composer whose music captures and powerfully conveys a wide range of emotion. I can easily imagine his compositions making a strong contribution to television shows and films."
– Jason Blume, (Songwriter with more than 50,000,000 album sales; Author of 6 Steps to Songwriting Success, Inside Songwriting, and This Business of Songwriting, all published by Billboard Books)
"We've hired Dave to compose music for several commercials. He is very talented, his compositions are spot on and our clients are always very happy."
– Kierra Parlagreco, Filmworks
Yael Kruman Penn
Yael Kruman Penn is Co-Founder & Chief Marketing Officer of Hit Songs Deconstructed and Founder & CEO of Imagine 360 Marketing, an interactive marketing and design firm based in New York City.
Ms. Penn has over 20 years experience developing and implementing integrated marketing strategies and possesses in-depth knowledge of traditional, interactive and emerging media. Her ability to combine strategic vision with creative ideas and practical solutions has largely contributed to her success.
She has been published by several "must read" industry publications including BtoB, Chief Marketer, Website Magazine, and eMarketing +Commerce, and has been quoted as an industry expert in various trade publications.
Prior to founding Imagine 360 Marketing and Hit Songs Deconstructed, Ms. Penn served as Director of Marketing and Circulation for Dow Jones Financial Information Services, where she was responsible for developing and directing the division's overall marketing strategy for over 35 high priced specialized publications. During this time, she successfully integrated over 20 electronic and print publications and directories resulting from the Dow Jones acquisition of Technologic Partners and the $85 Million acquisition of Alternative Investor Group.
Earlier in her career, Ms. Penn served as Marketing Manager for the Capital Markets Group at Institutional Investor and Marketing Manager at Marcus Evans, a global conference and event production company where she was responsible for launching financial events in New York.
Ms. Penn grew up in São Paulo, Brazil and resides in New York City.